Wakan Films is pleased to announce their extraordinary feature film, about Persians in America,
Farewell to Rumi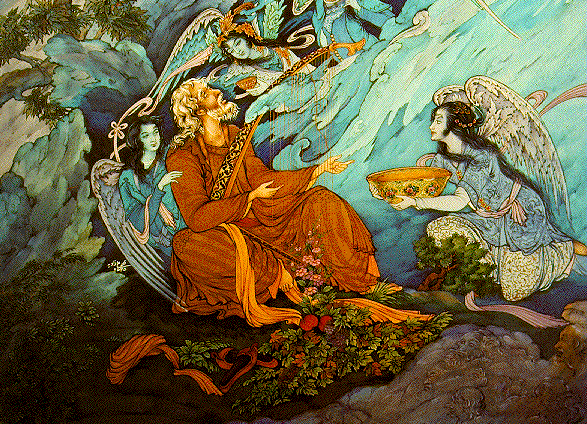 "Farewell to Rumi" is a stunning beautiful film about Iranians in America, the power of love and joy, the poetry of the Persian poet Rumi (Molavi), and the challenge that we all have to make our lives happy, meaningful, and glorious.
The very experienced and successful filmmakers involved with "Farewell to Rumi" are detailed below, as is the tremendous interest that the project has generated and other aspects of the film.
Contents of this web site: (press below)
---
Wakan Film Productions in Washington D.C. is producing "Farewell to Rumi," an extraordinary Independent American film about Iranians in America.
This would be the first film ever about Iranians outside of Iran, and certainly the first American film to give a positive impression of Iranians and Persian culture. The filmmakers, particularly Scriptwriter-Director-Producer Khashyar Darvich, want to correct the negative stereotypes that films like "Not Without My Daughter" and the media in general have been giving people world-wide about Persian and Middle-Eastern culture.
By showing this film in theaters and video in America and around the world, we want to make Iranians feel proud about their Persian heritage. The Persian culture to be showcased in the film includes the poems in Farsi of Jalaluddin Molavi (Rumi), Persian and Sufi music, the talents of Persian actors and artists, and a story about the cultural struggle of an Iranian family in America.
Response from readers of the script (which is summarized on the last page) has been that the story is dazzling and produces a profound spiritual shift in them that lingers long after the last page. "Farewell to Rumi" has veteran producers involved in the project, including Producer Karl Genus (former President of the Director's Guild), Producer Dennis Aig (an Emmy-winning producer), and Khashyar Darvich (a scriptwriter, national television filmmaker, and 8-time Telly Award winner.
Dennis Aig has also won several awards at film festivals across the country including two Emmies, four Emmy nominations, and a Telly. He has worked on Robert Redford's "A River Runs Through It," Redford's new film "The Horse Whisperer," and Ron Howard's "Far and Away."
Khashyar Darvich, who was born in America and lived in Iran when he was a child, has written the script for "Farewell to Rumi" and will direct the film. His father was born and raised in Iran (Mazanderon). Khashyar has written several scripts which have received the interest of more than one Hollywood studio. He is currently producing several documentary films, and recently produced and directed a documentary about the history of the oldest gold mining town in Colorado that was broadcast on PBS stations in 1997 and several times on The History Channel in 1998 and 1999, as well as winning a 1997 Telly Award.
Karl Genus' resume and credits are a mile long, and he has many prominent friends in Hollywood. We are looking forward to Karl's brilliant casting insights, as when he discovered and gave first acting roles to Dustin Hoffman, Jon Voight, Peter Falk, and Cliff Robertson.
Commercially successful films with a similar appeal include: "The Wedding Banquet," "The Joy Luck Club," and particularly "Like Water for Chocolate." A similar film to "Farewell to Rumi," "The Wedding Banquet," about Chinese-Americans, was made for $1 million and grossed $24 million worldwide. "The Brothers McMullen," a film about Irish-Americans, was made for about $27,000, and grossed over $12 million in the U.S. alone.
Because of the Iranian-American theme (the first time ever portrayed on film), the strong character-driven plot, and the stunning, unconventional images, "Farewell to Rumi" should attract a broad audience.
We've been very careful to make this a financially viable project with a comparatively low budget, made possible partly by our key players being willing to work for less than their usual fees because they really believe in this project.
We have raised part of "Farewell to Rumi"'s budget, and are currently raising the remainder of what we need. Molavi Productions is raising one of three full budgets for the film: $100,000, $490,000, or $1.1 million. The average studio budget for a feature film is about $35 million, with most of that going to stars' salaries. With whichever of the three budget amounts we raise, we can make a powerful film, but we can make the best quality film with the highest budget. With the two highest budgets, for example, we can hire relatively well-known star actors.
The budget amounts of this film increase the chance for a good return on the film. A detailed financial and distribution plan is included in a 100-page film business plan for "Farewell to Rumi" which is available to anyone seriously interested in investing or helping the production.
Investors will be listed in the film's credits, will be invited to film's opening night premiere gala event as well as production parties to meet the producers, directors and actors, will receive a VHS copy of the finished film, and will be invited to the set to watch some of the filming.
If you believe, like we do, that "Farewell to Rumi" will make an extraordinary film as well as positively promote Persian culture, then please contact me at Wakan Films, P.O. Box 610119; Redwood City, CA 94061 to speak further about the film. You can also email me at: Khashyar@wakan.com, which would be a more economical and faster way of communicating back and forth. If you are interested in helping, then Molavi Productions can send you the completed script and a thorough business/film plan that includes about 50 major news articles written about the producers.
We already have several Hollywood studios and distributors interested in the film, but we would rather fund this film through Persians and other interested independent sources so that we have the complete freedom to make this special story into the exact positive film that all Persians would be proud of.
Also, please get in touch with me if you have any ideas, helpful suggestions or comments.
Thanks,
Khashyar Darvich, Producer /Director (Khashyar@wakan.com or WakanFilms@wakan.com)
P.S.: You may also contact Producer Dennis Aig in Montana at (406) 585-7414, or email him at: Aig@sesame.kusm.montana.edu.