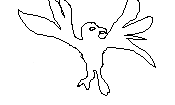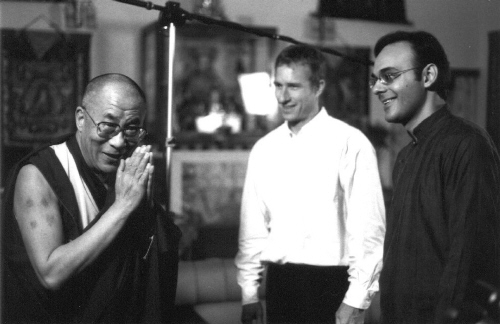 (above) His Holiness the Dalai Lama with Producer-Directors David Mueller (center) and Khashyar Darvich (right) right before their July 1999 interview for the Peace Pilgrim documentary at the Dalai Lama's residence in Dharamsala India.
---
Wakan Films is committed to producing documentaries (and feature films) that improve the quality of the world in some way.
For 1998, we are devoting all of our resources producing a documentary about Peace Pilgrim, an incredible woman who walked 25,000 miles across America for peace from 1953 until she died in 1981. From 1996 through 1997, Wakan Films produced the national television documentary "Black Hawk Waltz: Tales of a Rocky Mountain Town." "Black Hawk Waltz," which was co-produced by Dennis Aig of the Hunter Neil Company, was broadcast several times on The History Channel and PBS stations, and won several awards, including a 1997 Telly Award.
Wakan Films is also producing other documentaries.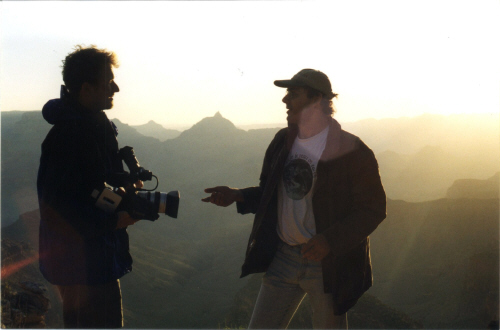 (above) Filmmakers David Mueller and Khashyar Darvich discuss cinematography during filming for the Peace Pilgrim documentary at dawn at the Grand Canyon in Arizona.
Press here to go back to the Wakan Film's main page...
---
CONTENTS OF THIS WEB SITE:

(Press on the blue or purple underlined words to go there)

Peace Pilgrim

The Peace Pilgrim Documentary

Information about the documentary
Internship and possible employment opportunities on the documentary.
Information about the celebrities interviewed and otherwise involved

New Info: Wakan films has interviewed His Holiness The Dalai Lama for three separate projects including "Peace Pilgrim", "Synthesis Dialogues with the Dalai Lama", and a Dateline NBC special on Tibetan medicine. The Nobel Peace Prize-winning Dalai Lama is one of the authorities of peace in the world today. Other interviews include poet Maya Angelou and actor Dennis Weaver.

Music in the Peace Pilgrim documentary features work by Oscar-nominated American composer Philip Glass.

Wakan Films is proud to be producing this documentary about Mildred Norman Ryder (or "Peace Pilgrim"). This incredible woman walked tens of thousands of miles across America to promote peace from 1953 until she died in 1981. A remarkable woman who changed many many lives. The documentary will be completed by the summer of 2000, and is being produced and directed by Khashyar Darvich and David Mueller. PBS producer Dennis Aig is a consulting producer. We have already interviewed several celebrities for the film, including actor/activist Dennis Weaver ("Gunsmoke," "McCloud," "Lonesome Dove"), and author John Robbins ("Diet for a New America"), author Dan Millman ("Way of the Peaceful Warrior"), and several others.

Also learn more about Peace Pilgrim and her life-affirming message by going to the Friends of Peace Pilgrim website by clicking here>> www.peacepilgrim.org

or The Peace Pilgrim Home Page here>> www.peacepilgrim.com

1997 Telly Award

Documentary (broadcast on The History Channel and PBS stations): "Black Hawk Waltz: Tales of a Rocky Mountain Town"...

Produced and Directed by Khashyar Darvich and Dennis Aig

Aired on PBS stations in 1997

broadcast on KUSM (Montana Public Television) June 7
broadcast on KRMA (PBS 6, Denver), 1st week of June

was aired several times nationally on the History Channel in 1998-2000.

Awards won:

winner, 1997 prestigious national Telly Award, and two 1999 20th Anniversary Gold Classic Telly Awards (which are awarded to the best work in the last 20 years).
winner, 1997 CINDY Award
winner of award at the Houston International Film Festival (over 4,150 category entries from 31 countries were competing)
winner, award from the Columbus Film and Video Festival
winner, award from the Association of Local and State Governments.

Documentary about Persians in America...

Beginning in 2000, Wakan Films will be producing a documentary about Persian's experience in America. This film is planned to be broadcast on television, and we are seeking donations or investment so that a true diverse reflection of who Persians are in America, and what there experience is here, can be documented and presented to a world television audience.

PBS and Emmy-wining television producer Dennis Aig is also producing this documentary with National Television producer Khashyar Darvich.

Khashyar Darvich

Producer-Director Khashyar Darvich... A little something about the Producer/Director/Writer (+ pics). Includes photos with His Holiness the Dalai Lama and poet Dr. Maya Angelou.

Producer-Director DAVID MUELLER... A little something about the Producer/Director/Writer (+ pics)
BACK TO Wakan Films' MAIN PAGE...

Contact us through email or email us at: WakanFilms@wakan.com

or write us at:

WakanFilms, P.O Box 610119; Redwood City, CA 94061