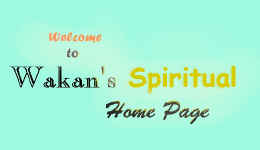 (or Wakan's Nonjudgemental Loving Spiritual Web Page)
We are committed to bringing people: ideas, thoughts, web links, and other misc. stuff to help make their lives better, more enjoyable, happy, spirit-filled and clear.
This site is provided by Wakan Films (committed to making spiritually, artistically, and financially successful films).
We aren't expecting to receive anything from this site, just to be able to give, share some ideas, and make some lives happier.
This page will expand and develop in a natural way.
THINGS TO CHECK OUT ON THIS WEB SITE: (press below)
(MORE STUFF TO BE ADDED SOON :) )
PLEASE send us your ideas about spirituality and any good spiritual links that you have found, and we mean spiritual links that have REALLY made a difference in your life in a practical way.
You can email us at: GoodGod@wakan.com
or write us at:
WakanSpirit, P.O. Box 1360; Washington Grove, MD 20880