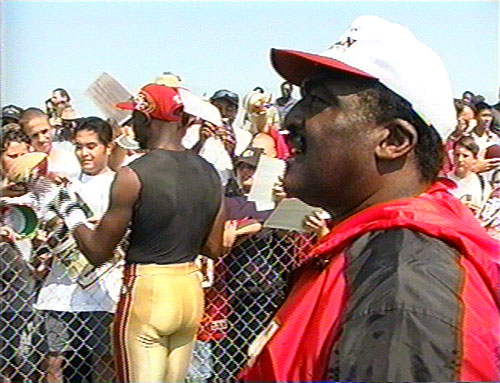 Introduction:
"Coach Parks" is the story of a true American hero; a role model of the strongest and rarest character. It is the story of Ben Parks, an African-American high school coach who has dedicated over forty-two years of his life to selfless service and giving. Through his tough and seemingly hard-handed approach, Coach Parks has profoundly influenced both the athletes and students of Menlo Atherton High School--a racially and often economically divisive school--in ways that have inspired, changed, and healed thousands of lives. Moreover, he has been a role model to athletes like Joe Montana, Jerry Rice, Ronnie Lott, Roger Craig, Eric Davis and many others, all of whom give powerful testimony to the effect Coach has had on their lives. From the most successful businesses of Silicon Valley to the most impoverished economic communities of the inner-city, Coach Parks has changed and continues to change lives through one powerful lesson:
"Success in life has nothing to do with what you gain in life or accomplish for yourself. It's what you do for others." --Coach Parks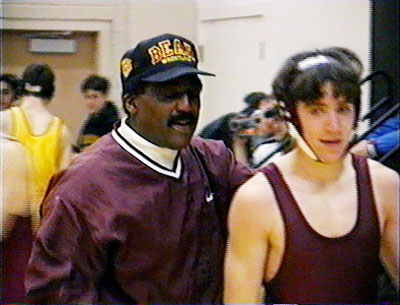 Importance of the Coach Parks Story:
"Coach Parks" is an important film for a diversity of audiences. In particular Coach has been--and continues to be--a powerful role model to the African-American community, but his story crosses generational, ethnic, cultural, and geographic boundaries. In many ways his life is a bridge between his African-American heritage and the affluent "white" community around him. He has built bridges of understanding and compassion in innumerable situations, from his racially tense and often violent high school, to his own prejudiced neighborhood and inner, between races, religions, ages, between rich students and poor. He continues to reach out to the Mexican-American community where he was fed and cared for as a child and to provide food and clothing to many migrant field workers. He is a living example of "giving in action;" giving all that he has, asking nothing in return. Although his story has special appeal to African-American and Latino audiences it will also appeal to every person interested in bridging gaps between races, generations and economic groups. Coach's story is universal and his message transcends the boundaries of race, ethnicity, geography, and culture.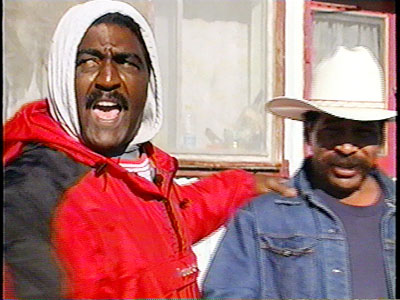 Background about Coach Parks:
Coach Parks' life began in extreme poverty. Deserted by his mother as a baby, he went to live with his grandmother in the rural town of Hollister, California where he grew up among migrant field workers. Often going hungry for days as a child, he learned the value of giving from families that took him in and fed him. Today he has turned this around and himself feeds hungry families at Thanksgiving and Christmas often bringing clothes and other necessities. Although he could be making thousands of dollars a day training professional athletes, he does not charge for his workouts and turns no one away. He continues to live with his family on the very modest salary of a high school coach giving all of his time and money away to those in most need.
His unmistakably strong personality has also gained him national recognition. For the past five years he has been invited to Washington DC to serve on the President's council for building character in youth through sports. He is a living example of what he preaches. Each year on his birthday, he runs a mile for every year of his age. The money he raises all goes to charity, including $100 a mile from Joe Montana for the past few years. "Harder, harder, you can do more!", Coach Parks yells at his trainees. He challenges everyone to go deeper within themselves. "What he teaches stays with you your whole life," says John Tittle, son of the legendary Y.A. Tittle. On and off the training field he pushes people to their limits--and beyond. "Service is the rent we pay for living," Coach says.
His deep effect on many professional athletes has been a powerful example to students who often worship celebrity and financial success more than character and service. Former San Francisco Forty-Niner Ronnie Lott summed up the influence many people feel from Coach as follows: "The motivation that kept me playing well and continues to enthuse me and push me is Coach Parks. One thing he says is, 'Life isn't a choice, but living is.' It's inspiring. You have all the choices in the world, why not choose to live life the right way? Why not choose to help people? It makes you stronger within."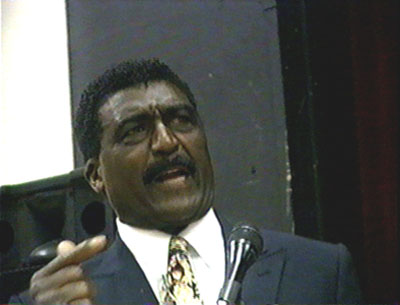 Producer's Relationship to Subject and Audience:
Co-Producer and Director, David Mueller, describes his relationship with Coach Parks: "I met Coach as a student at Menlo Atherton High School in the late seventies in the midst of race riots and strong racial tensions. I watched Coach step into the middle of many potential violent situations and diffuse them with his strength and character. He'd have the leaders of both gangs shaking hands within minutes. Long after I graduated, his words and example continue to stay with me and inform my life."
"Three years ago, when I returned to my home town after a 20 year absence, I found Coach Parks still training and coaching; still helping those in need, whether a hungry student in the lunch cafeteria or a migrant family with no bedding. I was re-inspired by Coach's strong presence and unconditional love and I continue to be guided by his example and commitment to helping people."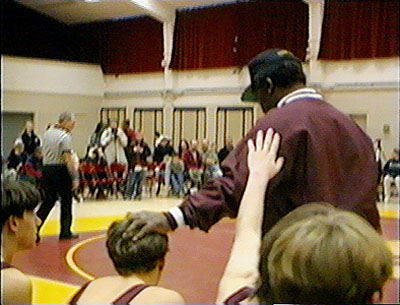 Concluding Thoughts:
With intolerance, hatred, and violence creeping into our schools and our culture, we are in need of heroes, and stories of heroes like Coach Parks. It is the strong desire of Wakan Films to help his life and message reach and inspire as many people as possible. By telling this story our goal is to inspire, uplift, and emotionally impact the largest audience possible.
The Coach Parks Documentary is completed, and will be distributed soon.
Running Time: 22:25 minutes