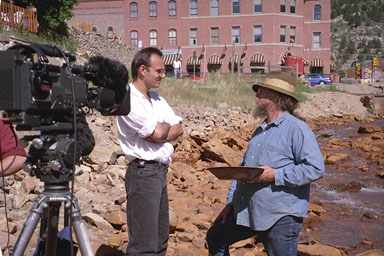 The Wakan Foundation for the Arts Documentary film about a true-life Colorado "Northern Exposure" was broadcast on the History Channel and PBS stations
Introduction:
Entirely through the voices of the town's residents and images from its present and past, "Black Hawk Waltz: Tales of a Rocky Mountain Town" tells the story of Black Hawk, Colorado (about 45 minutes west of Denver) from its founding in the 1850s up to the present day. It was in Black Hawk, in the late 1850s, that gold was first discovered in Colorado. The town began as a placer mining camp and grew into an area of underground mines and later a milling and smelting town.
Black Hawk's mushrooming growth in a few short years after its founding inspired newspaperman Horace Greely's phrase about the American Gold Rush, "Go west young man."
Mining in the area stopped after World War II, because the U.S. government stripped the town of most of its steel and iron, including its mining and milling equipment, as a part of America's war scrap metal recycling effort, and the town's economy was almost completely devastated.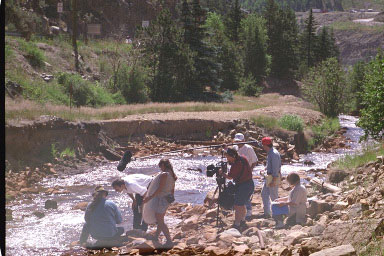 Benefiting from its scenic location, Black Hawk became a favorite site of those seeking solitude, including Allen Ginsberg, Jack Kerouac, and other members of the "Beat Generation." Later, Bob Dylan, Joan Baez, and others performed in adjacent Central City and visited Black Hawk. In late 1990, to save Black Hawk and two other former mining towns from closing, the towns' residents and voters of the State of Colorado decided to permit limited stakes gambling, including low stakes black jack, poker, and slot machines.
The film explores the true uniqueness of the residents and history of Black Hawk, as well as some of the changes with the advent of gaming. Gambling brought great economic benefits as well as the diminishing of Black Hawk's small town magic as nearly one half of the town's original residents moved away after gambling. Today, thousands of gamblers descend upon the town every day. The town now has a little more than 100 residents, and gaming provides Black Hawk with an annual budget of over $16 million.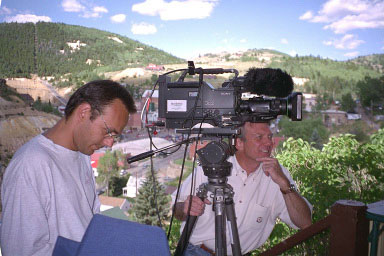 Some of the interesting facts revealed by resident interviews, most of which included in the film:
1) An excavator who digs old outhouses in the Black Hawk area has discovered a variety of things in old outhouse pits including a glass eye, false teeth, and a 100-year-old bottle containing a preserved fetus found behind a former brothel that was presumed to have been discarded by a prostitute.
2) Several older residents remember encounters with the Ute Indians in Black Hawk as recently as the 1930's. At the turn of the century, the Utes would visit Black Hawk to perform dances and in later years would ask certain familiar residents for food.
3) There was a metal submarine built in Black Hawk in the 1800's that was sunk and later raised from a mountain lake 9,000 feet above sea level.
4) A Black Hawk-area resident co-founded a newspaper in the 1970s, "The Little Kingdom Come," to present irreverent and unpublishible accounts of the news that the official local paper would not report. Included in each issue, which is still published "whenever we damn well feel like it," is the "Gunslinger of the Month," a nude centerfold of a local Black Hawk area resident (both men and women) wearing only a cowboy hat (to cover their lower unmentionables), boots, and a six shooter. Centerfolds have included the mayor of Black Hawk's rival city, an attractive bare-breasted grandmother, a mother-daughter team, and the naked trombone section of the renowned Central City Opera sporting only their instruments.
5) Black Hawk and Central City are adjacent to one another, and the two towns have been rivals since their founding in the 1850s. In the late 1800s, a post office was built in Central City. Residents of Black Hawk were envious, and hooked up the post office to a team of horses in the middle of the night and drug the building to Black Hawk. The next night, residents of Central City drug it back to their town. Postal officials then decided to build a post office in both towns.
6) Folk singer Judy Collins started her career in Black Hawk, and made beer in her bathtub. One night, she mystified her audience with a five minute introduction to a song that had just 17 words: "If you haven't made love to the landlady's daughter, then you shan't have another piece of pie." Audiences were dumb-founded but a local friend planted in the audience clapped enthusiastically in support.
7) Beat poet Jack Kerouac made a stop in the Black Hawk area, which was recounted in his novel, "On the Road." Kerouac was very influenced by his stay in the area and was also reported to have been thrown out of a bar for fighting and bothering local women (not mentioned in his novel).
8) One Black Hawk resident in the early 1900s would ride his trained pig to school. The pig would wait for him at the small schoolhouse until school was over and then take him home.
9) Up until the late 1970s, city saloon patrons would wear six-shooters in holsters, check their gun-belts in at the bar, and then pick them up when they were done drinking for the evening.
10) Residents tell a plethora of brothel stories, including that showgirls would take care of sick miners and that brothels made their real money from drinks, with a glass of beer costing as much as $2.00 in the late 1800s, more than the price of a few minutes with a prostitute.
11) Former Black Hawk residents include: the maker of the Stetson hat, the builder of the Pullman train car, and Madame Curie (who used radium found in the Black Hawk area for her X-rays). Judy Collins lived in Black Hawk for about a year before becoming famous.
12) There was a beat funeral in Black Hawk in the late 1970s for a Gilpin County beat poet that was attended by Hollywood producers and poet Allen Ginsberg and other Beats. A blues guitarist played at the grave site while the Beats read their poetry and drank alcohol from a silver flask. They then sprinkled amphetamines and other drugs into the grave before leaving.
13) Several notorious motorcycle gangs have spent time in Black Hawk, including the Devil's Disciples. The Hell's Angels were driven out of Black Hawk in the 1960s, and then tried to enter neighboring Central City but were turned away by a posse of citizens who aimed rifles at them from the high windows of city buildings.
14) The phrase "Go West Young Man" was actually coined by newspaper man Horace Greely to describe the Colorado gold rush begun in Black Hawk, not the California Gold Rush as many believe.
15) Wagon-pulling oxen were given metal shoes, fabricated in two crescent-shaped sections because the animal's hooves are split. The oxen were lifted in the air with a belly band to fashion or change their shoes.
16) Children in the one room school house in town had to use a six-seat outhouse (three for the boys and three for the girls) in the back of the school until the 1960s. In 1994, while the school was being renovated, construction workers accidentally knocked the outhouse over and it went tumbling literally down a hill, nearly falling on top of some nearby houses. The outhouse was later fully restored.
"Black Hawk Waltz" was filmed in March and June 1996, with a 18-member professional crew, was edited in August and September 1996, and completed in October 1996. The documentary premiered locally in the first week in October 1996 in Black Hawk on a big screen, and was received enthusiastically by the audience and press.
The intention of the documentary is to preserve the oral stories of older residents and promote understanding of the past as a context for modern day Black Hawk. It hopefully will serve as a resource for future generations and will bring an increased sense of community to the area, which was lost after gambling began.
The film won numerous awards.